Chunky crocheted home decor makes for a gorgeous statement piece. Think of squishy pillows and cushy blankets–positively sumptuous! Bulky and super bulky yarns highlight the texture of the stitches. And they create a thick, cozy fabric that your customers will love for chilly fall and winter days.
All of these patterns are profit-optimized. They work up quickly so you spend less time crocheting more products. You can even whip up a whole blanket in very little time! That ultimately means more sales for you and more money in your bank account!
Try one of these best-selling crochet designs to expand your current profitable home decor line. Or dip your toe into home decor for the first time and see how your customers respond!
Pricing Your Crochet Products to Sell!
Choosing the right patterns is a big part of your success as a crochet product maker or seller. But you also may be wondering how to price your finished products. If you've ever asked yourself, "How do I price my crochet so I make money but my customers don't have to pay exorbitant prices?" then I can help you answer that. Head over to the Crochetprenuer blog where I'll show you how to price crochet products for profit.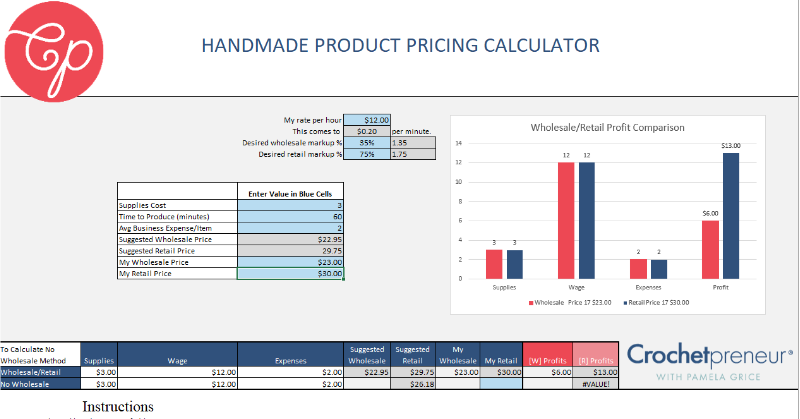 I'll tell you what pricing strategies work (and don't work). And while you're there, be sure to grab my free product pricing calculator spreadsheet. Just plug in your numbers and the calculator will do the math for you!
And now, back to the main event–13 comfy, cozy chunky home decor products to warm your heart.
Chunky Home Decor Crochet Patterns
This round up features chunky home decor patterns. Think chunky blankets, baskets, pillows, and more made from bulky or super bulky yarn.
And those are my top picks for best-selling chunky crochet designs to quickly build your home decor inventory. Tell us what you think. Which one do you want to add to your craft fair booth or Etsy shop? Don't forget to comment, below, with your favorites. And we'd love you to share your best-selling craft fair designs with us, too!
As always, tag @madewithatwist in your social media shares of MWAT designs so I can feature you in my posts!