This keyhole scarf is one of my best-selling crochet items for craft markets. My customers love the ease of use and I love how easy it is to make a pull through scarf that sells at craft fairs! The free pattern is just waiting for you, below!
I love everything about this scarf. As a seller, it is easy to make and whips up in about 45 minutes. There are no extra embellishments or details to meddle with. And, it's easy to display.
As a typically scarf-avoidant non-fashionista, this beauty gives all of the warmth but none of the bulk that causes me to leave most scarves on the shelf.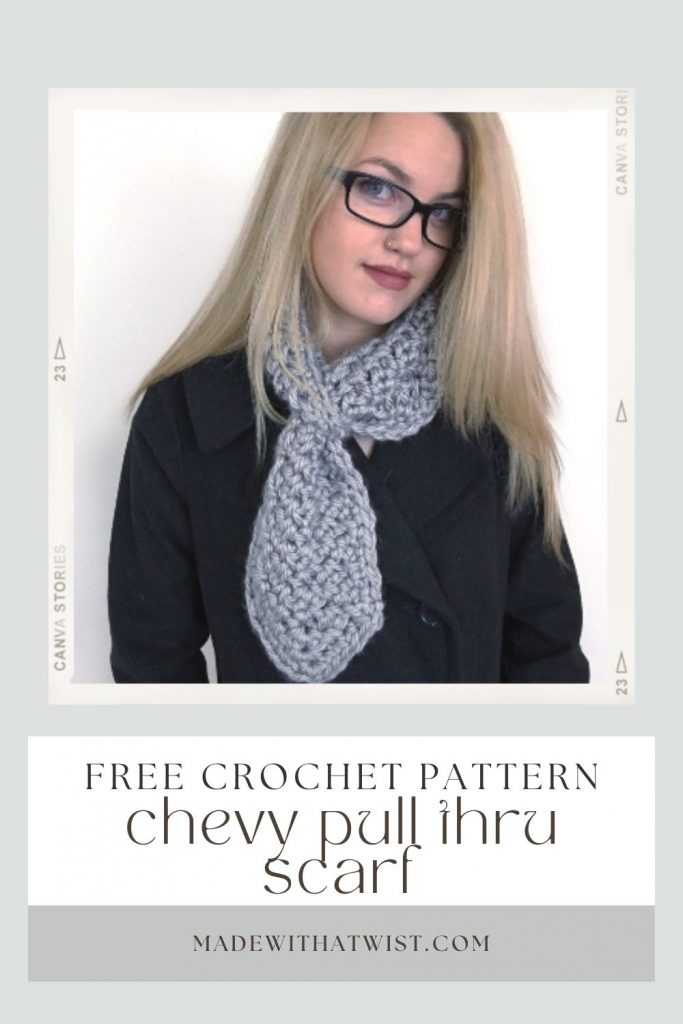 As buyers, my customers love this one because it's adorable, easy to wear, affordable, and it makes a great gift for teachers, girlfriends, and grandmas!
The Chevy Pull Through Scarf
I originally designed this scarf several years ago as I was creating my staple craft fair inventory. While I had more expensive neckwear options like button cowls and infinity scarves in the lineup, I was wanting a more affordable scarf option for my customers.
I was hoping to design something that I might want to wear, too. Since I don't like scarves to be tight around my neck and I don't appreciate the added bulk that some scarves cause, I knew it needed to be easily adjusted and to lay flat. I, also, wanted it to be light enough to be tucked into a jacket for a more polished look.
And this is what I came up with, a fully adjustable, flat laying, keyhole scarf that I love!
Now, it's become my most popular item with my craft fair buyers. They happily pair it with their favorite hat to create sets for themselves and as gifts. It's a total win/win.
Once you make your first one, I know you'll love it as much as I do!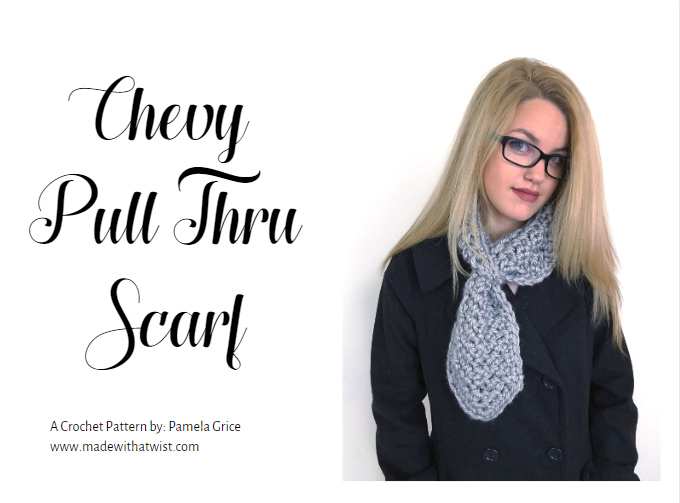 Skill Level
Easy
Materials
Gauge
8 sts x 7 rows of sc= 4″ square
However, meeting gauge is not crucial with this design.
Sizes/Finished Measurements
One size fits most: approximately 29″ (73.5 cm) x 5 " (12.5 cm)
Stitch Abbreviations
ch – Chain
sc – Single Crochet
sc2tog – Single Crochet 2 Stitches Together (Decrease)
sk – Skip next stitch
sl st – Slip Stitch
sp – Space
st(s) – Stitch(es)
Pattern Notes
US Terminology
When a row begins with a CH1, the ch does not count as a st.
If you gauge doesn't match the one given, just work the pattern repeat until your scarf is the desired length of 29″ or longer.
How to Make this Pull Through Keyhole Scarf
Ch 15. Then, working loosely –
Row 1: Sl st in second ch from hook, sl st in next 2 chs, sc2tog across next 2 chs, ch 1, sk 1, sc in next ch, ch 1, sk 1, (sc, ch 1, sc) in next ch, ch 1, sk 1, sc in next ch, ch 1, sk 1, sc2tog across next 2 chs. (3 sl sts, 6 scs, 5 chs)
Row 2: Ch 1, turn. Sc2tog across first st and next ch-1 sp, ch 1, sk 1, sc in next ch-1 sp, ch 1, sk 1, (sc, ch 1, sc) in the center ch-1 sp, ch 1, sk 1, sc in next ch-1 sp, ch 1, sk 1, sc2tog across next ch-1 sp and the following st. Leave last 3 sts unworked. (6 scs, 5 chs)
Row 3: Ch 1, turn. Sc2tog across first st and next ch-1 sp, ch 1, sk 1, sc in next ch-1 sp, ch 1, sk 1, (sc, ch 1, sc) in center ch-1 sp, ch 1, sk 1, sc in next ch-1 sp, ch 1, sk 1, sc2tog across next ch-1 sp and st.
Rows 4 – 40: Repeat row 3.
Border
You'll be working the border all the way around the scarf.
Ch 1, do not turn. Instead, rotate the piece to begin working along the long edge of the scarf.
Beginning with row 40, sc in the end-stitch of each row along this edge.
Sc in each of the 3 sl sts of row 1.
Form a loop at the top of the scarf (this V portion at the top now becomes an O) by working a sl st into the first ch created when starting the scarf (see photo).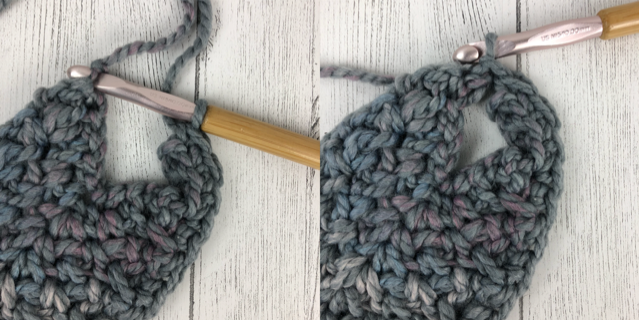 Beginning with row 1, sc in the end-stitch of each row along this edge.
Working along the bottom edge of scarf, repeat row 3. Sl st to first sc of border round.
Finish off. Tuck ends.
Get the Downloadable, Ad-free PDF of this Design
The free pattern for this scarf is shared, above. However, I know many of you like to print your patterns (without all those pesky ads cluttering your printout) or save them, digitally, for later use.
So, I've create a beautifully formatted, large print, ad-free PDF of this pattern for you to use at your convenience and you can get it on Ravelry for less than the cost of a cup of coffee…or join the Made with a Twist Makers Club to get lifetime access to all Made with a Twist PDF patterns for just $25!
Copyright notice: This pattern and its images are copyright protected and the sole property of Made with a Twist by Crochetpreneur®, a division of Montgomery Grice Enterprises, Inc. Please do not redistribute, transfer, or sell the pattern, or alter it to claim as your own You may sell any products you create from this pattern. Please credit the designer by linking online listings to www.madewithatwist.com or tagging @madewithatwist.
Suggested Pricing: a Guide for Crochet Sellers
Permission is given (even encouraged) to sell your handmade products created from this original Made with a Twist pattern. I only ask that you give credit to Pam Grice from Made with a Twist as the designer, when possible, and link back to www.madewithatwist.com and/or @madewithatwist (on social media) when selling and sharing images online.
Suggested Retail Price
*Note
Marketing to bargain shoppers is not recommended.
Increase value for boutique buyers with luxury yarns, packaging, and/or embellishments for boutique shoppers.
More Best Selling Scarves You'll Love to Sell or Gift
I love seeing your finished projects! If you enjoyed making the Chevy Pull Thru Scarf, I'd love to see yours on Instagram. To be sure I don't miss it, please tage me, @madewithatwist, when you post your photos!
©2019 Montgomery Grice Enterprises, Inc | Made with a Twist | Pamela Grice This pattern and its associated images are copyright protected. The pattern is for your personal use only. Please do not copy/paste, distribute, or alter and claim as your own.