Welcome to our first day of the 30 Days of Cozy. I'm so happy and honored that you popped by and can't wait to share this first design with you, The Betty Boyfriend Sweater, from Natalia McHayle at Talia's Crochet Creations!
Find out, below, how you can get your hands on this amazing crochet pattern and be sure to use #30daysofcozy when you post your WIPS so we can cheer you on!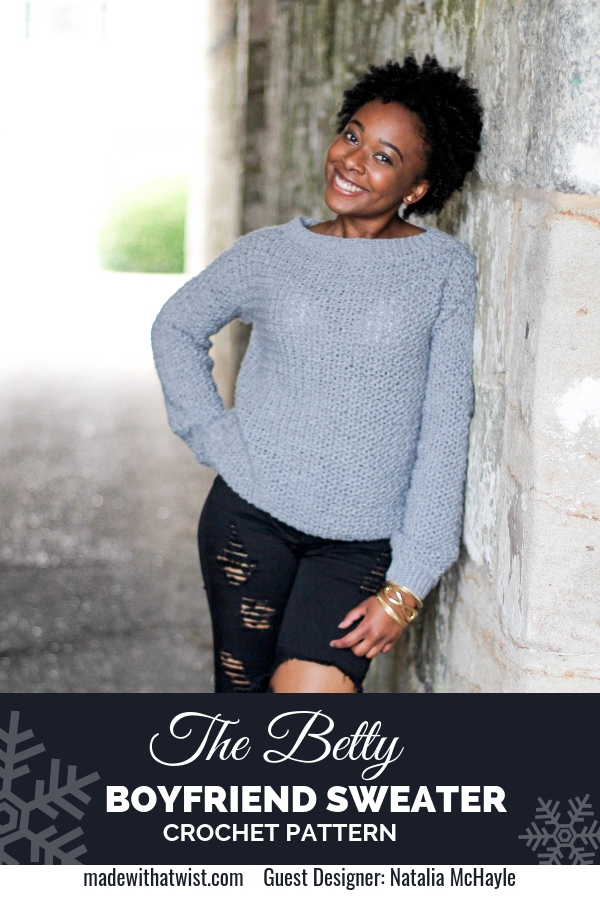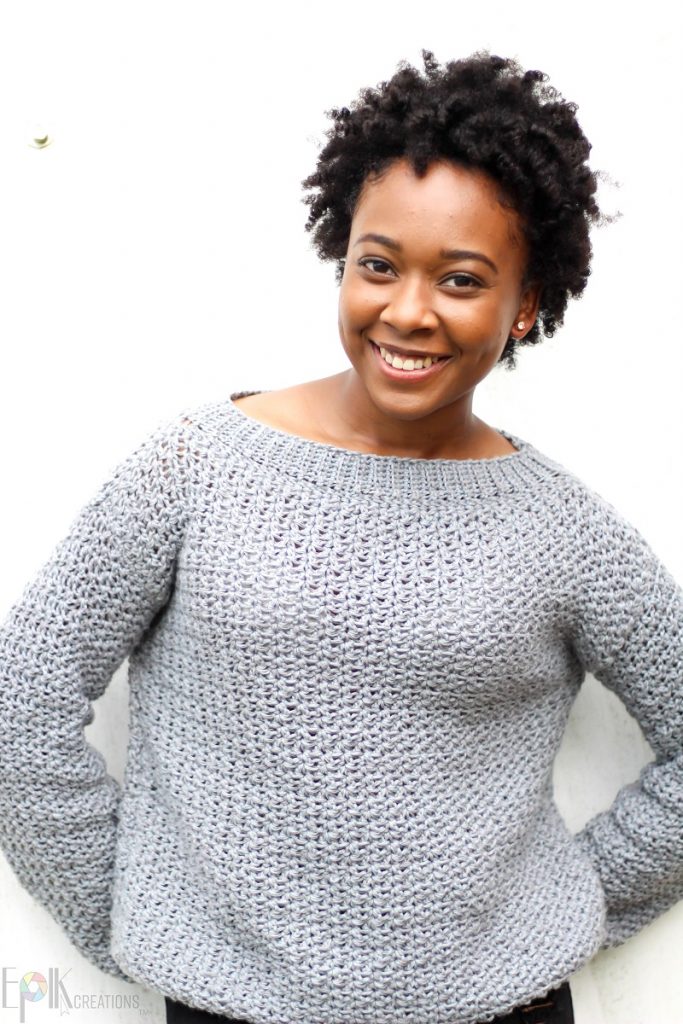 Meet Natalia McHayle
Natalia McHayle is an independent Crochet Designer from New York. She received her B.B.A in Small Business Management in 2015 and went on to work in the Construction industry for a few years. During her college education and professional career, Natalia designed and sold unique handmade pieces to her customer base.
It wasn't until 2017 that she decided to dive into pattern designing to meet the demands of those who cherished her designs and wished to create them as well. When she doesn't have a crochet hook glued to her hand, you can find her curled up with a good book or writing poetry.
Natalia now resides in Virginia. You can find a gallery of her original work and published designs on www.taliacrochetcreations.com and also on Ravelry, Instagram, and Facebook linked below.
Blog and Social Media Links
Get a Printable PDF of this Pattern
Introducing the Betty Boyfriend Sweater Crochet Pattern
Crocheting, Netflixing, and eating popcorn all seem to go hand in hand these days. I don't know about you, but that's what I love to do. I've noticed that all it takes is a really good series for me to complete a mindless crochet project in no time! My last binge on Netflix was Riverdale, and it was a fascinating series in all aspects of it. Between the drama, mystery, and suspense of it all, I was hooked…and so was my yarn! (pun intended).
You're probably wondering how Riverdale ties into this design, so let me stop rambling and get to the point. Elizabeth "Betty" Cooper and Jughead Jones. They are my absolute favorites from this series. Their determination to solve mysteries and save lives at any cost kept me wanting more and more. While these two characters grabbed my attention in every episode, that wasn't the only thing that piqued my interest.
If you must know, I am a sweater weather person; no matter the season. If I get any chance at all to wear a sweater, I'm snatching the opportunity. And yes, that means in the sweltering heat as well …grocery stores are cold ya know! As I delved deeper into each episode of Riverdale, I realized Betty's sweaters were catching my attention more and more. They were always neat and looked comfortable, sometimes with a pop of sophistication. A versatile article of clothing will always be a check in my book. While her boyfriend's choice of clothing tended to be plainer, (which is not a bad thing at all), he definitely complemented her good girl/bad girl persona.
When I set out to plan this design, I knew I wanted a boyfriend-style sweater with a subtle play on texture, which is usually my signature go-to. The name of this sweater also was a play on both of my favorite characters from the Riverdale series and the type of design it was going to be. Although boyfriend sweaters tend to be oversized, I wanted to add some sort of shaping to the bottom, especially knowing how crochet tends to stretch over time. With those aspects in mind, I played around with stitch combos and went with the one that I felt would exhibit this design in the best way possible. The boat-neck was actually a last-minute idea. I had the idea of designing this sweater with a turtleneck but instead went for a less wintery option. I also used a cotton blend DK/ light worsted yarn that would give me a great drape. I find that textured stitches work well with finer yarns and create really warm sweaters without the bulk.
I had so much fun designing this sweater. I cannot wait until the summer heat dies down a bit to wear this cozy sweater more often. If you decide to make this sweater as well, I really hope you enjoy it as much as I do!
More Sweater Patterns You'll Love
This pattern and all images are property of Talia's Crochet Creations © 2019
Alterations, copying, sharing, and selling of pattern is not allowed. This pattern is for PERSONAL USE ONLY . The designer requests that you do not sell items made from this pattern.