After her video went viral on Facebook during Chrismas of 2016, my model, Chelsea, became known as the Messy Bun Hat Girl. When it came time to design a new ponytail hat, I just couldn't resist naming this Beehive Messy Bun Hat after her.
This new, highly textured hat is worked from the bottom up in the signature style of Made with a Twist (by Crochetpreneur). A ribbed brim creates just the right amount of stretch to get the hat over even the thickest of hair and the horizontal beehive ribs create such a great, stylish texture that makes this a versatile and comfortable bun beanie. As all of my bun hats do, this one has our trademark elasticized opening to keep the hole tight to the hair so the wearer gets no chilly winter draft!
Looking for a closed, regular hat version of this pattern? You can find it on the page, Free Crochet Pattern: The Beehive Beanie.
Below, it's shown with our mandala logo buttons from All This Wood LLC. You can get some made with your own logo, here on Etsy.
Want to be in the know when new free patterns come out? Subscribe to one of our newsletters and you'll never miss a thing!
READY TO MAKE YOUR OWN?
PATTERN DOWNLOADS
Here's everything you need to know to make your own Beehive Messy Bun Hat.
There are several ways you can get your hands on the pattern:
Follow the pattern for women's medium size in this post, below.

Download the

 printable, ad-free 

lite version of the pattern (teen/women's small size only) for

 FREE!

Purchase and download the premium version including sizes Teen – Unisex XL from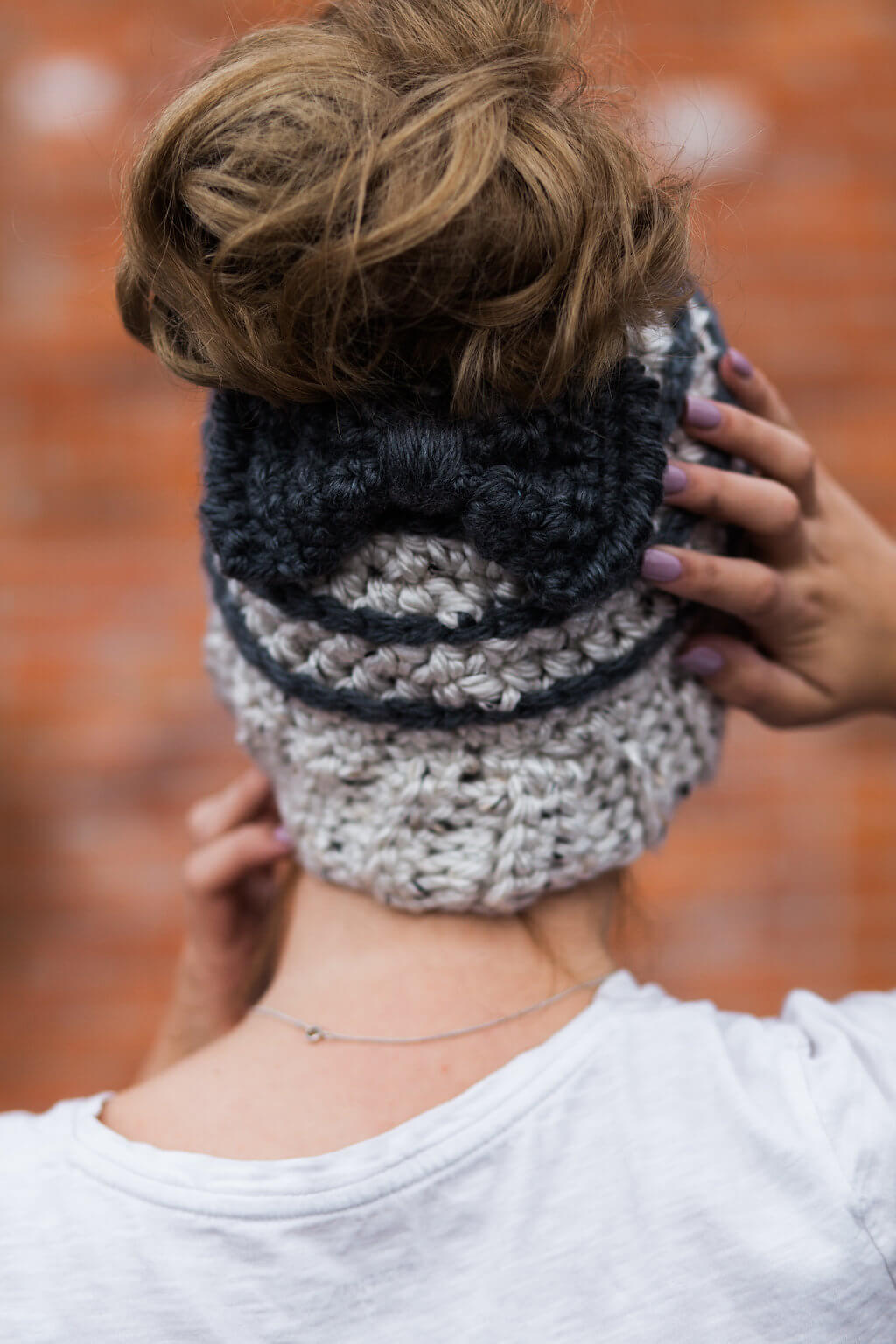 MATERIALS
9.00 mm (US size M/N ) Crochet Hook
75 yards of super bulky yarn. I used Lion Brand Hometown USA in Houston Cream
Sewing Scissors
Tapestry Needle
Buttons or embellishment of your choice
STITCHES USED
CH: chain
SC: single crochet
HDC: half-double crochet
SLST: slip stitch
ALL THE DEETS
Single Crochet Ribbing: Working in the back loop only, single crochet back and forth in rows to create a stretchy ribbing.
HDC in the back bar: Several rows in the pattern are worked in the back bar of the HDC from the row below. Instead of working through both loops, or the back loop, when you work in the back bar you stitch through the loop directly behind/below the backloop

.
CHELSEA BEEHIVE MESSY BUN HAT CROCHET PATTERN
With 9.00 mm hook and super bulky yarn
To Make the Band at the Bottom of the Hat
CH 6
Row 1: (working in back loop only,) SC in 2nd ch from hook, SC in each ch across,  CH1, turn. 5 sts
Row 2: (working in back loop only) SC in each st across, CH1, turn. 5 sts  Repeat for 36 rows
Do not fasten off.
With right sides together and the crochet hook on the right-hand side of the piece, SLST the last row of SCs to the beginning row of chain sts, matching the stitches across. This will create a circular band.
Turn the cuff right-side out so that the seam is on the inside.
CH1 and work across the top of the ribbing. You'll be working in rounds now.
To Make the Top Part of the Hat
RND 1: SC into the end stitch of each SC row of the band. Join with SLST to first SC.  36  sts
RND 2: CH1, HDC into the same stitch as beginning CH1, HDC in each stitch around. Join with SLST to beginning HDC. 36 sts
RND 3: (working in the back bar – aka third loop) CH1, HDC in each stitch around. Join with a SLST to beginning HDC. 36 sts.
RND 4: Repeat Rnd 2
RND 5: Repeat Rnd 3
RND 6: Repeat Rnd 2
Rnd 7: Repeat Rnd 3
Rnd 8: (decrease) CH1, HDC in the same stitch as beginning ch1, HDC in the
next st
, work
a HDC2TOG
decrease across the next 2 sts, *HDC, HDC, HDC2TOG,*
repeat from
 * to * around the hat. Join with
 a SLST
to beginning HDC. 27 sts.
Rnd 9: CH1, HDC in the same stitch as beginning ch1, HDC in the next st, work a HDC2TOG decrease across the next 2 sts, *HDC, HDC, HDC2TOG,* repeat from * to *  around. Work a HDC in any remaining stitches after working the decrease pattern. 20 sts.
Rnd 10: Holding hair tie inside the rim of the top hole, CH1, SC in each stitch around being sure to grab the hair tie in each stitch so that it is encased in this final row of stitches.
Fasten off leaving enough yarn to tuck in.
Tuck ends and sew on buttons as desired.
ONCE YOUR PROJECT IS FINISHED
I know you're going to love making the Beehive Messy Bun Hat and I so look forward to seeing your finished product.
You can share them with me in one of two way (or both):
I can't wait to see your creations!
Until then, stay cozy and keep on yarning. ♥
GET NOTIFIED OF NEW PATTERNS
Love designs from Made with a Twist by Crochetpreneur? Stay in the loop on all my upcoming patterns and projects by subscribing to my newsletter and you'll be the first to know! SUBSCRIBE HERE

MORE MESSY BUN HATS FROM MADE WITH A TWIST