My husband and I just got back from a quick trip to Shamrock, TX for their annual St. Patrick's Day festival…what a trip! It's like being in a different world going from the city to a tiny little Texas town. The best part of the trip? Well, we left Colorado Springs at 4:00 AM, in the midst of a snowstorm, and arrived in Shamrock at 2:00 PM and found the trees all in bloom and ready for Spring!
Aren't they beautiful!? With spring in the air, I couldn't help dreaming about the sunshine, tulips, and spring craft fairs. 🙂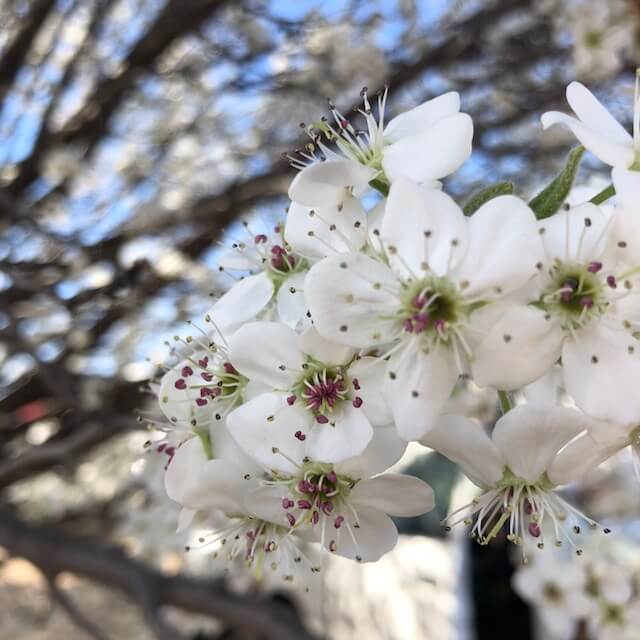 I've been getting a lot of questions, lately, about the best products to make for warm-weather fairs. So, I decided to whip up this free crochet pattern for Springtime coasters. They're so quick to make because of the super chunky yarn – it took me less than 15 minutes for each coaster so they're a great project to work on when you're on the go.
These chunky floral coasters are not only great for craft fairs, but they're also a perfect hostess gift or everyday accessory around the home. Make a set in a single neutral color or, if you're in the mood for a stash-buster, make one in every color and switch them out depending on the seasons!

Ready to Make Your Own?
Make your own Springtime Coasters using the pattern that follows, below,
OR get your ad-free, downloadable copy for less than a cup of coffee via this link to the listing in my Ravelry shop or this link to my Etsy shop.
Spring Craft Fair Coasters
Skill Level
Advanced beginner
Sizing and Yardage
Each coaster uses approximately 11 yards of super bulky yarn. The finished coaster is 5″ in diameter.
Materials
11 yards of super bulky (size 6) yarn per coaster. I used Lion Brand Wool-Ease Thick & Quick.
Size 6.50 mm (US K) crochet hook
(Click HERE to shop all my favorite crochet and blogging tools!)
Stitches Used
CH: chain
SC: single crochet
DC: double crochet
SLST: slip stitch
SK: skip stitch
Important Notes
No matter your skill level, I always suggest that you read through the pattern from beginning to end before beginning your work just to be sure you don't have any questions that might cause frustration in the midst of your project.
To Make One Coaster
With 6.50 mm hook
RND 1: Working into a magic circle (or 3 chain stitches joined into a loop), SC 10, join with a SLST to beginning sc. (10 sts)
RND 2: CH2 (counts as beginning DC), DC into the same stitch as beginning ch2, CH2, SK next stitch, *2DC into the next stitch, CH2, SK the next stitch,* repeat from * to * three more times. Join with a SLST to top of beginning ch2. (20 sts)
RND 3: CH1, SC into the same stitch as beginning ch1, SK the next stitch, 6DC into the ch2 space, *SC into the next st, SK the next stitch, 6DC into the ch2 space,* repeat from * to * 3 more times. Join with a SLST to beginning sc. (35 sts)
Finish off and tuck ends.
Notes for Crochet Product Sellers

This is a profit-optimized pattern. If that's a new term for you, you can learn more about Crochetpreneur's signature profit-optimization philosophy and how it can help you grow your business and increase profits on each sale.
As a courtesy, I've included my estimated product pricing for items made from this pattern, here. Pricing below is for a set of 4 super chunky coasters.
Crocheter's hourly wage: $12
Time to make: 45 minutes
Cost of supplies: $3.50
Business expenses per set: $2
Suggested Wholesale Price: $18.85 Suggested Retail Price: $29.03
Suggested Retail Price when not offering a wholesale option: $22.33
You can find more information on my suggested pricing strategy, here: Finally, a Crochet Pricing Strategy that won't Screw Up Your Bottom Line.
Want your own automated product pricing calculator? Click the purple bar, below
Crochet Business Mentor seeks ambitious, go-getter crochet business owners to join our growing community at the Crochet Entrepreneurs Collective.
Want more free crochet patterns? Find them here: