The Star-Spangled Ponchette is an asymmetrical summer poncho crochet pattern that you are going to love to make and, even more so, love to wear.
I started designing this pattern while on a camping trip with my husband in Santa Fe, NM. In the evening, after the campfire had been extinguished and the coyotes were howling in the not-so-distance (is that a word?), we'd stare up the stars for what seemed like hours and have precious conversations in hushed tones…it was all so breathtaking.
If you've never seen the stars from the middle of the desert, I encourage you to add it to your bucket list.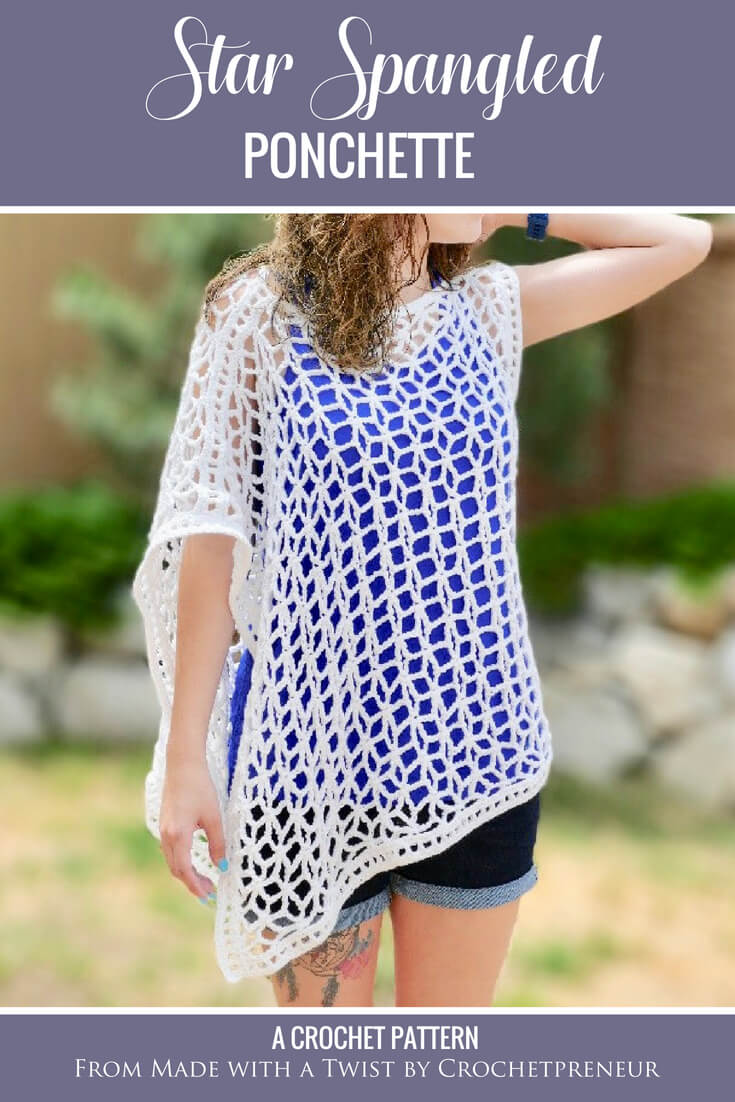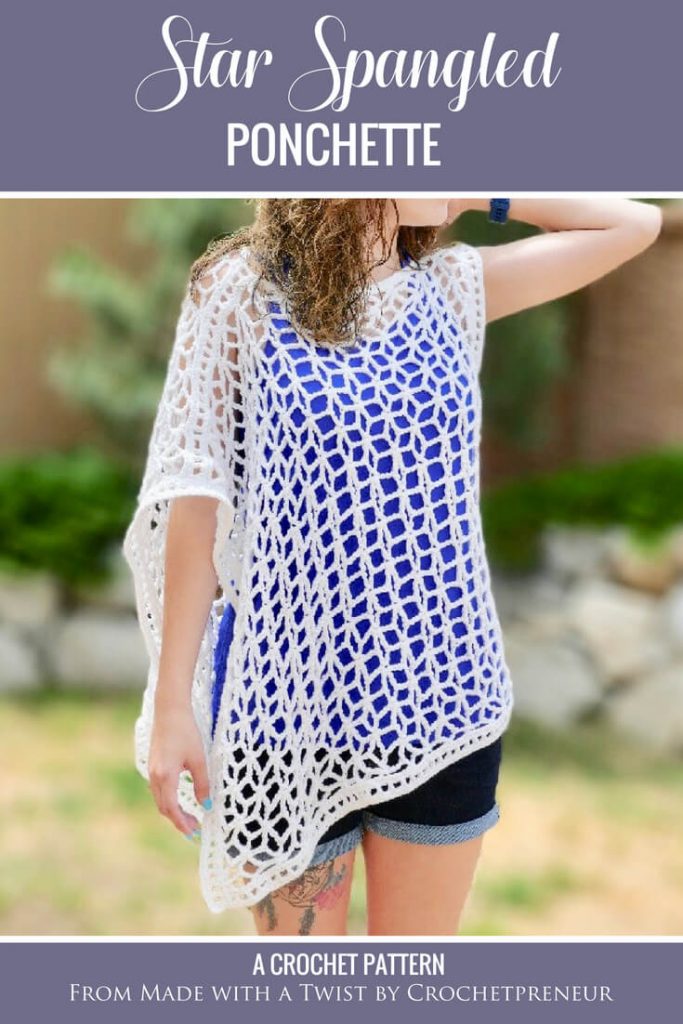 On that trip, when the days were just too hot to leave the camper, I sketched out this top and began playing with the stitches in order to get the star shapes I wanted.
This has probably been my most challenging pattern to write, but I just love the finished product….the way the stars align and the poncho drapes over the arm are just elegant and graceful and feminine.
I originally designed the piece to be a layered top for summer, but it can easily be worn as a beach coverup or poolside poncho, too.
Dress it up or dress it down…whatever you please. That's the kind of fashion accessories I love!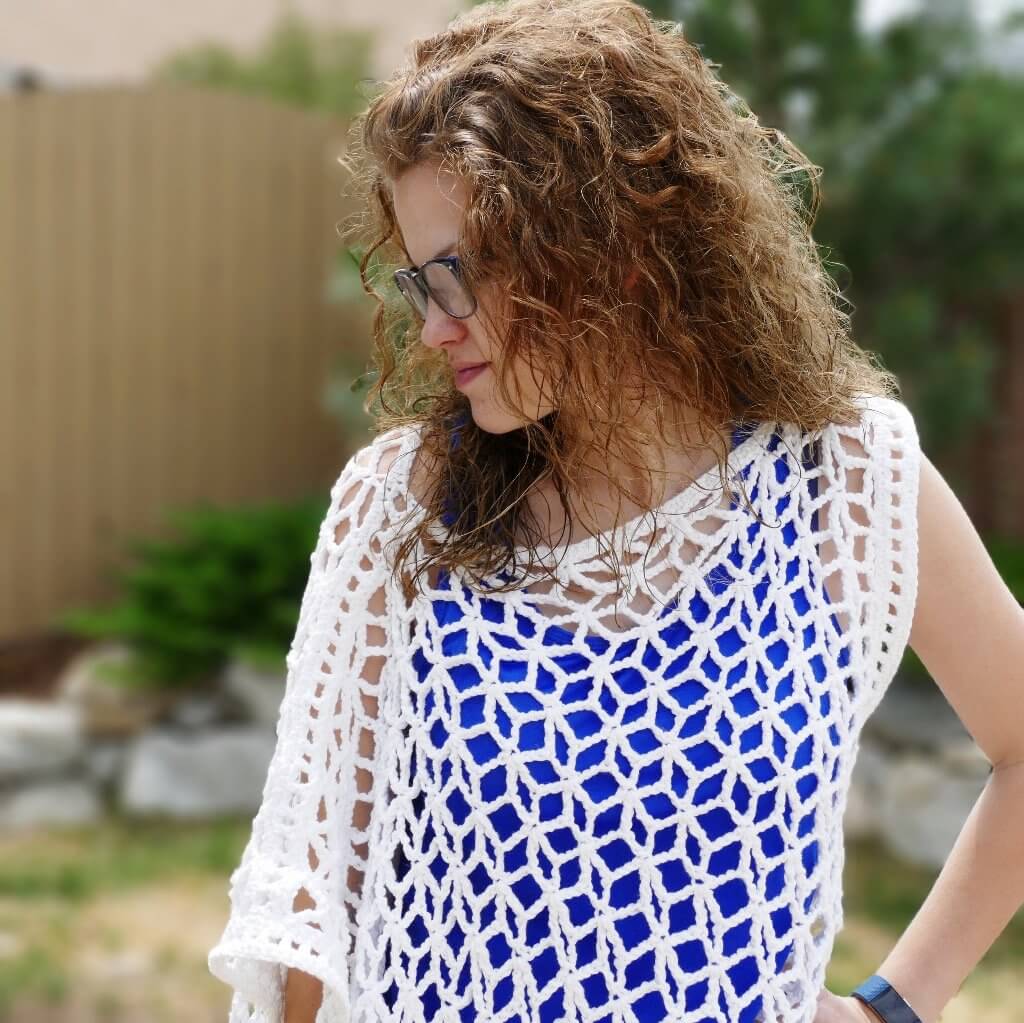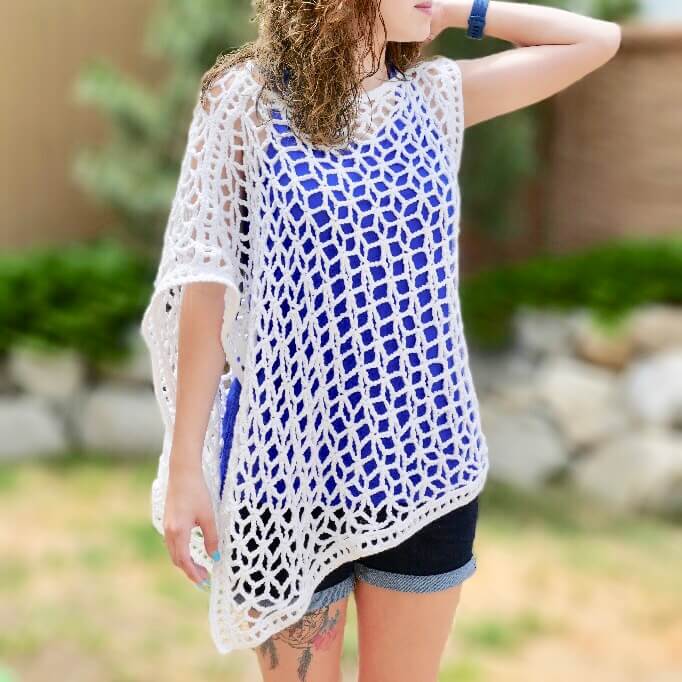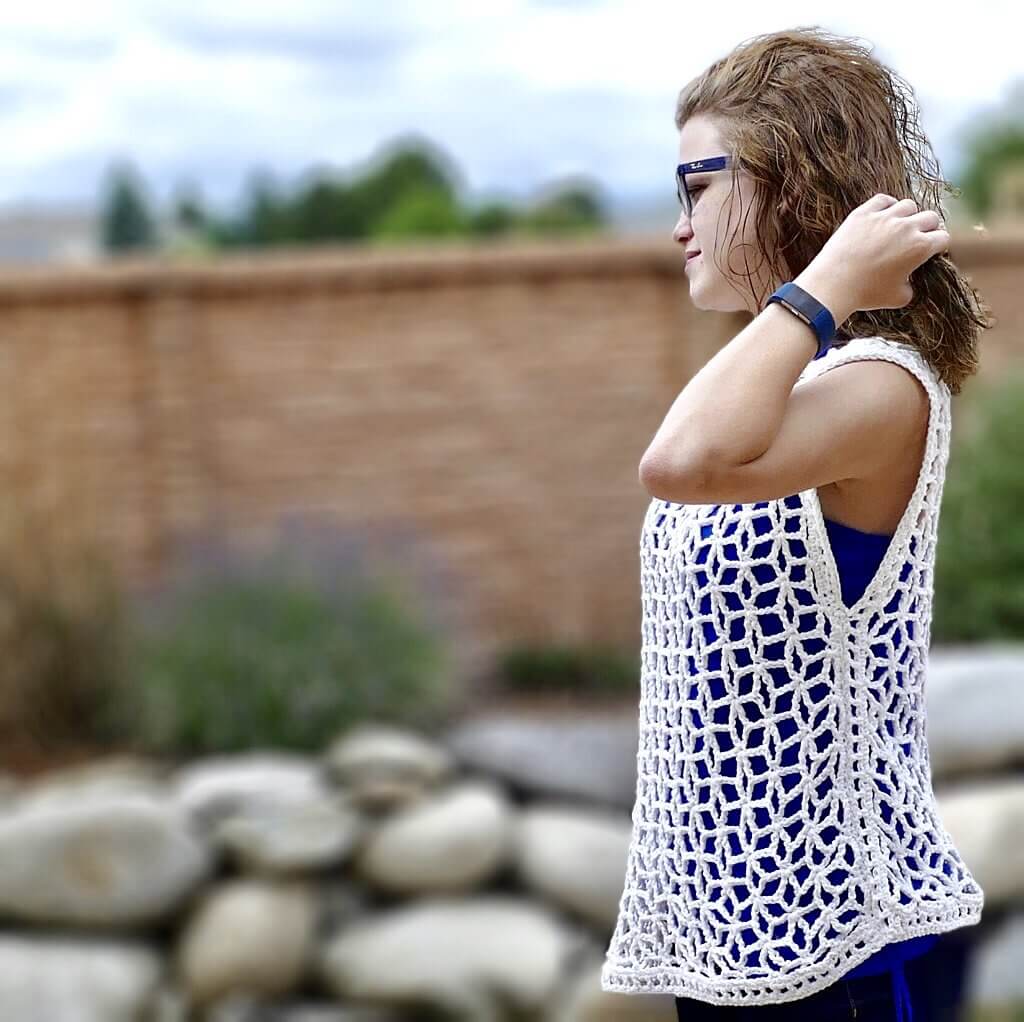 Adorned with a lacy star motif, this summer top has a boat neck, cap sleeve detail, and asymmetrical poncho drape. The design is fully reversible so you can wear the drape on whichever arm is most comfortable. Personally, I prefer to wear the drape on my dominant arm so that it sways and moves as I do.
If you are a lover of fashion that's unique and not off-the-shelf-mundane, you're going to love wearing this ponchette…it's like the adult version of the twirly dress – which is great because you get that flowy, feminine feeling without the questioning stares that come when "they" say you're too old to twirl.
Instead, when they see you in your Star Spangled Ponchette, they'll just remark at how great you look!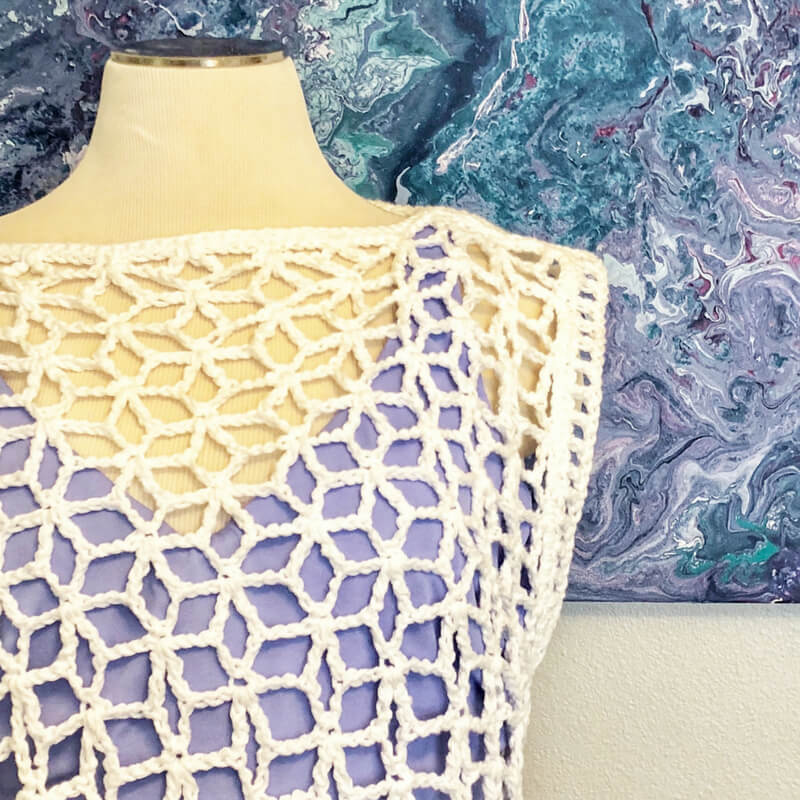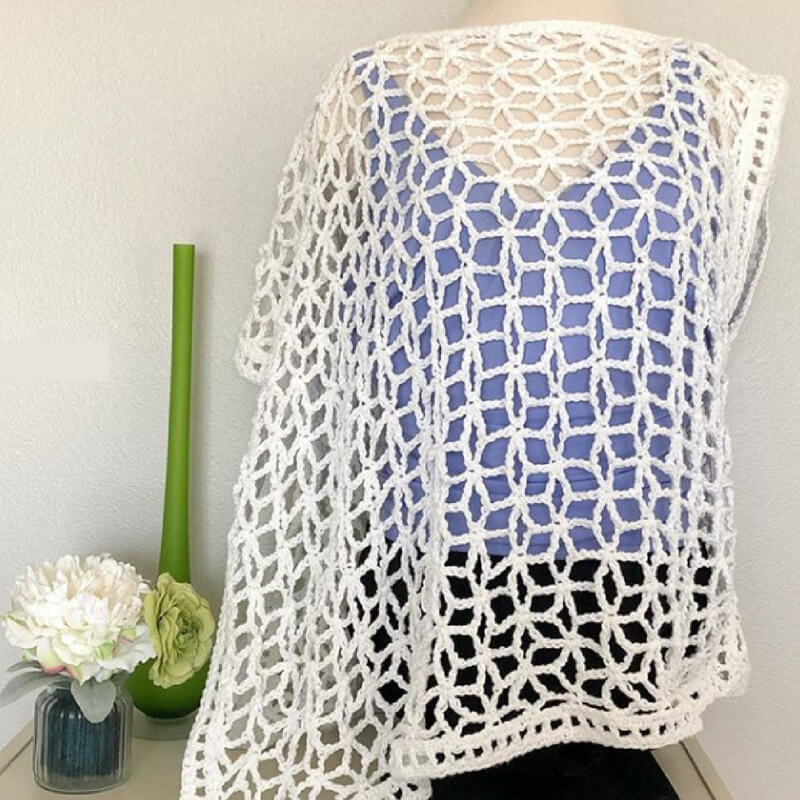 Get the Spring Garments Bundle

I'm so excited to share that this design is part of the Spring Garments Bundle that we've curated from some of our designer friends and made available at steep discounts, just for you!
Learn more about this amazing bundle of 10 garment patterns for just $10, right here!
Or, if you're ready to get started on your Star-spangled Poncho, you can learn more, below…
Materials
5.5 mm (I) crochet hook

Tapestry needle

Sewing scissors

Measuring tape

Stitch markers

Pins for blocking
Click HERE to shop all my favorite tools for crocheters and business owners
Abbreviations
SK: skip a stitch

SLST: slip stitch

CH: chain

SC: single crochet

HDC: half-double crochet

DC: double crochet

TC: treble crochet
Notes
Skill Level: Intermediate (the pattern might cause frustration for beginning crocheters)

US Terminology

Chart and Photo tutorial included for working the swatch

Includes sizes

One Size Fits Most

Plus thru 3XL

One sleeve is a simple cap sleeve design and the other is worn over the arm like a poncho.

The asymmetrical poncho design is meant to fit loosely and drape nicely.

Fully tested and tech edited pattern

Takes approximately 15 hours to complete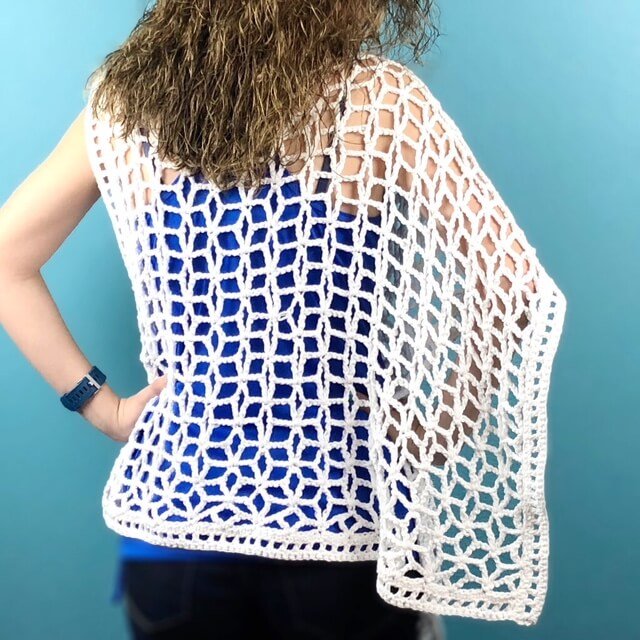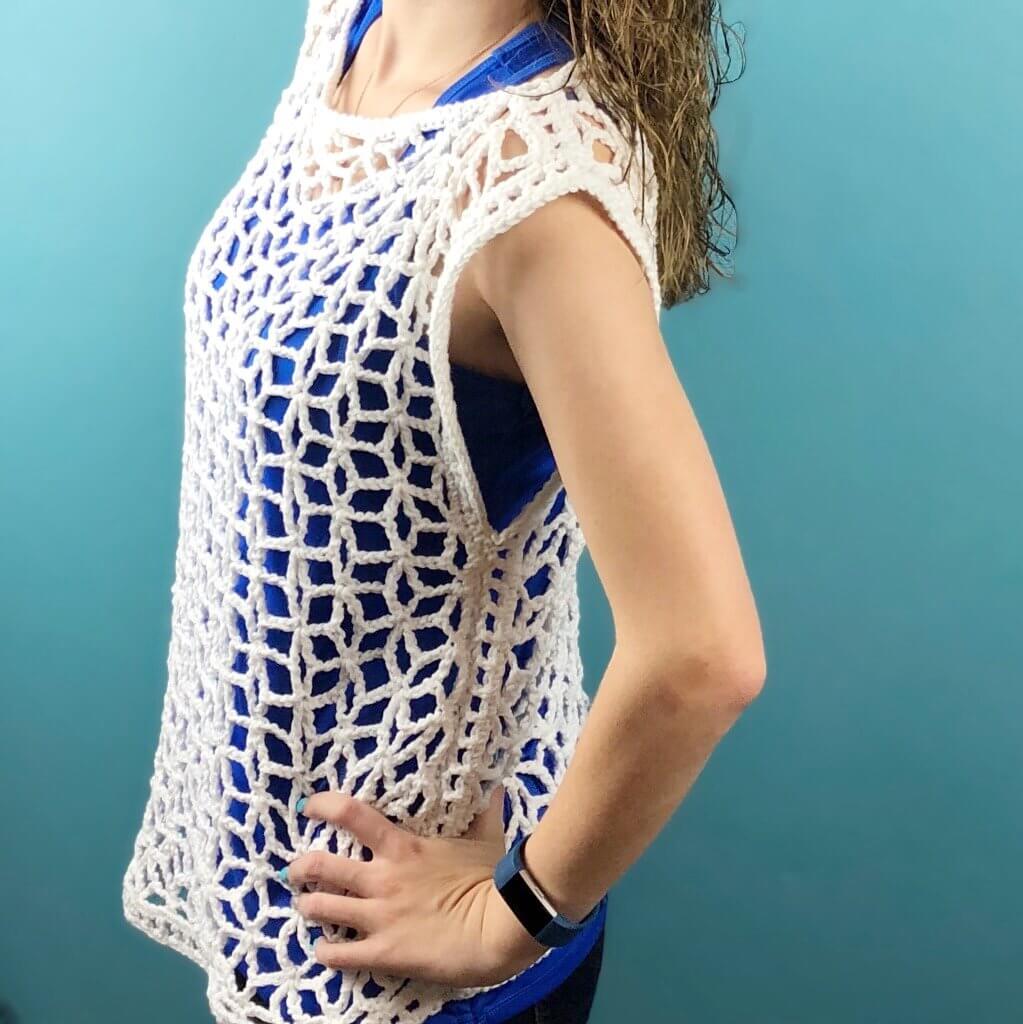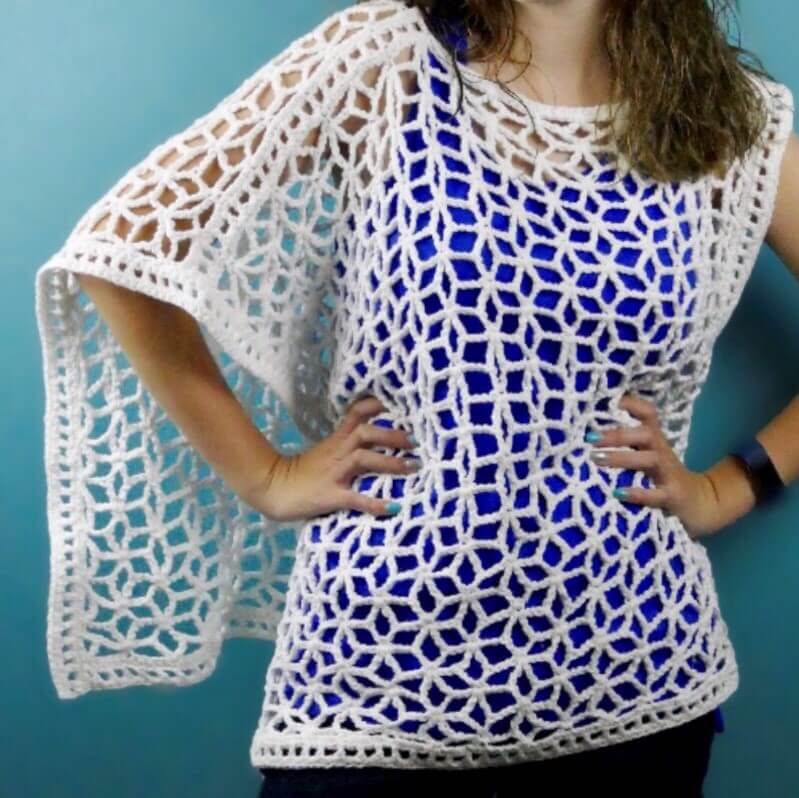 Get this Pattern PDF
This pattern is available on both Etsy and Ravlery. Take the link to your favorite platform, below.
Once Your Project is Finished
I know you're going to love making the Star-Spangled Ponchette and I so look forward to seeing your finished product.
You can do that one of two way (or both):
Create a project on Ravelry for your unique creation and link it to the

Star Spangled Ponchette pattern.
Follow me on Instagram and share your photos. Be sure to tag @thecrochetpreneur and use the hashtag #starspangledponchette and #madewithatwisters.
I can't wait to see your creations!
Until then, stay cozy and keep on yarning. ♥
Get Notified of New Designs
Love designs from Made with a Twist by Crochetpreneur? Stay in the loop on all my upcoming patterns and projects by subscribing to my newsletter and you'll be the first to know! SUBSCRIBE HERE