Today, the Best of 30 Days of Cozy brings us this beauty! The Nordic Tree Pillow Crochet Pattern from Meghan of Meghan Makes Do.
Meghan was so gracious in taking time out of her own jam-packed design schedule to create this monochromatic, classic Scandinavian style pillow just in time when we're all thinking about pine trees and falling snow. When you create this pillow, you'll be all set to cuddle up on a winter's eve with your favorite cocoa and a good book and you'll be feeling all the hygge vibes…add a warm blanket and you're all set.

To see what else Meghan's been working on, check out her series of C2C blankets, 4 in all, that she's come out within just the last month. Then, scroll down to grab your stitching chart and get to work on your very own Nordic Tree PIllow.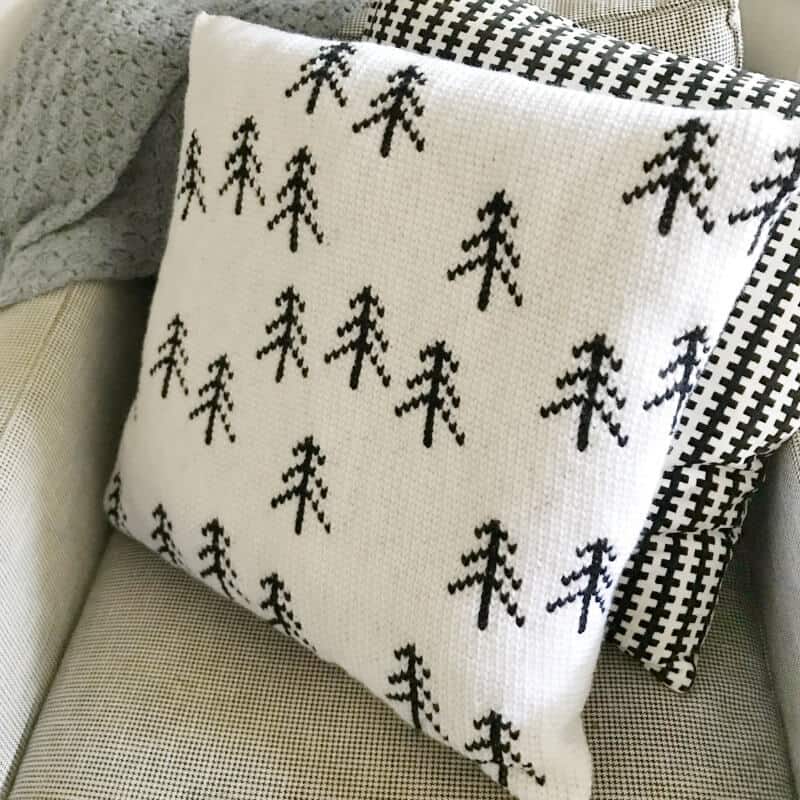 Are you ready to make your own? Be sure to head over to the Best of 30 Days of Cozy event page to grab your discount code, valid Nov 12 & 13, 2021. Then, come back here and scroll to the bottom to link to the premium, downloadable PDF!
Materials
4.25 mm (Size G) crochet hook
1,113 yards of worsted weight yarn in Color A (I used 3 skeins of Big Twist Value Yarn in white)
180 yards of worsted weight yarn in Color B (I used 1 skein of Lion Brand Vanna's Choice in black)
Scissors
Tapestry Needle
Stitch Marker

Stitches & Abbreviations
CH: chain
SC: single crochet
CSC: center single crochet
ST(S): stitch(es)
Pattern Details
Skill Level: Intermediate (Must be able to read a tapestry crochet chart)

If you've never worked in tapestry crochet, check out Meghan's tutorial, here:

https://meghanmakesdo.com/blog/how-to-tapestry-crochet

US Terminology

Gauge: 15 stitches X 18 rows = 4" square

Stitch used for gauge: center single crochet
Swatch instructions: Work your swatch in rows using center single crochet or create a small loop with about 22 stitches to work in the round.

Measurement: Finished pillow will be 22" X 22"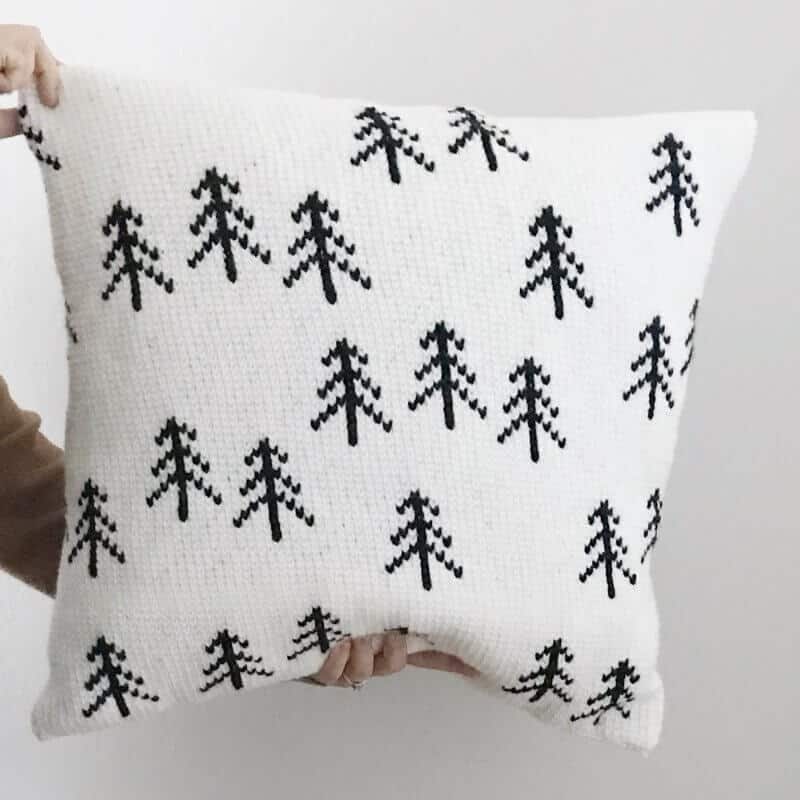 Pattern Stitches Used
Center single crochet (csc):
Center single crochet is worked just like a single crochet, but the hook is inserted in between the front two posts.
Fair Isle Crochet:
Fair Isle crochet is a technique used for color work. For all secondary colored stitches, use the Fair Isle technique and center single crochet. Insert hook into stitch, yo with a secondary color, yo and finish stitch with primary color.
Floating Yarn:
For Fair Isle colorwork in crochet, float your secondary yarn along the wrong side of your piece. Catch the yarn every 5-6 stitches. To catch yarn, lay it over top of the hook before the first yo.
Nordic Tree Pillow Crochet Chart
With G (4.25mm) size hook
Using color A ch 166, join to first ch with a sl st making sure not to twist the chains.
Round 1: ch1, sc in first ch, then place a stitch marker into that stitch. Sc in each ch around. Do not join. (166)
Round 2: working directly into the first st of round 1 csc in each st around. Moving your stitch marker to the next round as you go. (166)
Continue rounds using the graph below. Remember that each round is read right to left. Use Center Single Crochet from here on out and the Fair Isle crochet method for all Color B stitches.
Round 94-96: csc in each stitch around in color A
Fasten off leaving a long tail for sewing. Weave in all other ends.
Fold piece in half and using the long tail sew the top closed with a whip stitch.
Insert the pillow form and then sew up the bottom using a long piece of color A yarn. Weave in ends and enjoy!
Purchase the Premium Downloadable PDF of the Nordic Tree Pillow
While the free pattern is shared above, our readers often ask how to get a printable pattern or how they can support the work of independent designers such as Meghan Makes Do.
That is why we've made this pattern available as premium, ad-free, downloadable PDF. If you'd like to support Meghan's work, you can purchase the pattern, via the button, below.
More Home Decor Patterns You'll Love
Snowflake Sugar Cookie Blanket