Finally, something for the men! The free crochet pattern for Serpent's Touch unisex infinity scarf is brought to us by Vincent from Knot Bad Ami and is a gorgeous super scarf that is a great gift for someone special, a gift exchange, or just something great for yourself!
An now, it's a featured design for our Best of 30 Days of Cozy event!


The Serpent's Touch Scarf
I am so in love with having yarn around my neck – without it, I really do feel naked. So with the love of yarn, especially the bulky kind, I decided to make a pretty extra scarf – infinity scarves generally wrap around twice, so why not be able to wrap it more and more? I love being enveloped by it and this project is perfect if you enjoy that, too!
Down below, you can find everything you need to create this project! The photographer behind these professional photos is @genzo.raw.
Materials
Skill Level
Easy
Size/Measurements
Width: 4.5″ inches
Length: 53.5″ inches (When sewn together and laying flat)
Gauge
8 stitches x 6 rows – 4×4″ in Hdc
Stitch Abbreviations
Ch – chain
Hdc – Half Double Crochet
Sl st – Slip stitch
FO -Finish Off
How to Make this Serpent's Touch Scarf
Ch 10
Row 2: In second chain from hook, hdc. Hdc across.
Row 3: Ch 1, turn. Hdc across (9)
Row 4 – 310 : Repeat Row 2 (9)
I told you that was easy! Snow you're stuck with this snake of a scarf, now what?
Laying flat, seam up the ends together using the slip stitch.
Now, with the two ends together, lay flat on top of one another.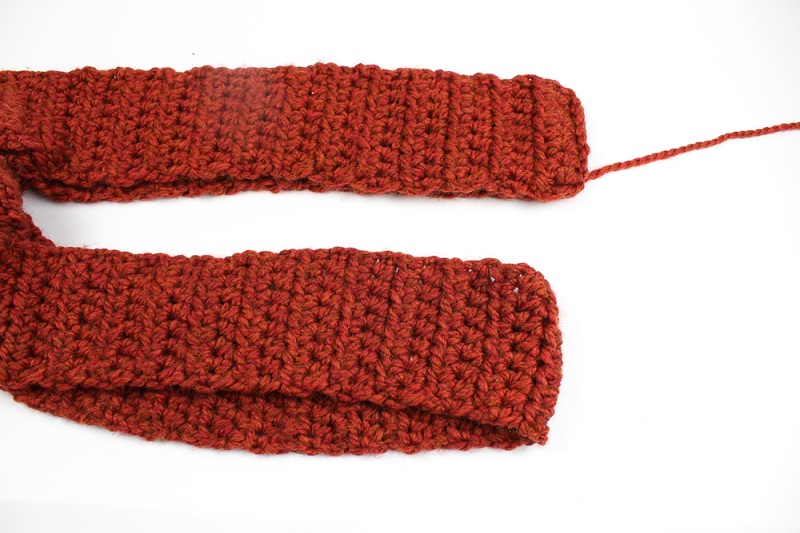 With both of these ends, you will sew them together!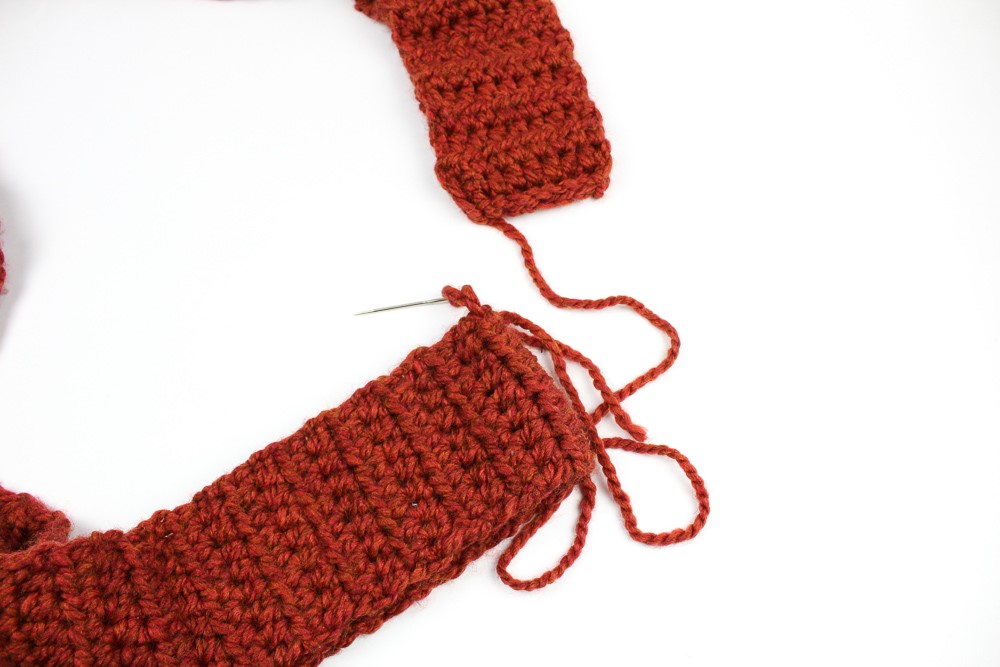 Finish off and weave in all your ends! Now you have your mega wrapped scarf!
More Infinity Scarves You'll Love
You may not sell my patterns or claim them as your own. You may make items to sell(i.e. on Etsy, at craft fairs) from my patterns but I ask that you link back to my blog and provide credit for the pattern. You are welcome to share my patterns on social media so long as you link back directly to my blog post(providing the link). No copy & paste of my patterns will be allowed under any circumstances.
Be sure to tag @knot.bad and @yarnpunk on your socials and use the hashtag #yarnpunk!