When I saw this photo of Brandie-Lee, I realized this boho bobble twisted headband crochet pattern is the perfect alternative to a messy bun hat…it's actually perfect for anyone, long hair or short, but it looks so great with a messy bun, as she's wearing it here.
This project is a quick one and is great when you have lots of gifts to make…like for all your kids' teachers! The free pattern, below, is in women's size. If you're looking for toddler or children's sizes, they are available in Brandie-Lee's premium pattern…check the "pattern downloads" section for details.
And, now, it's featured as part of the Best of 30 Days of Cozy!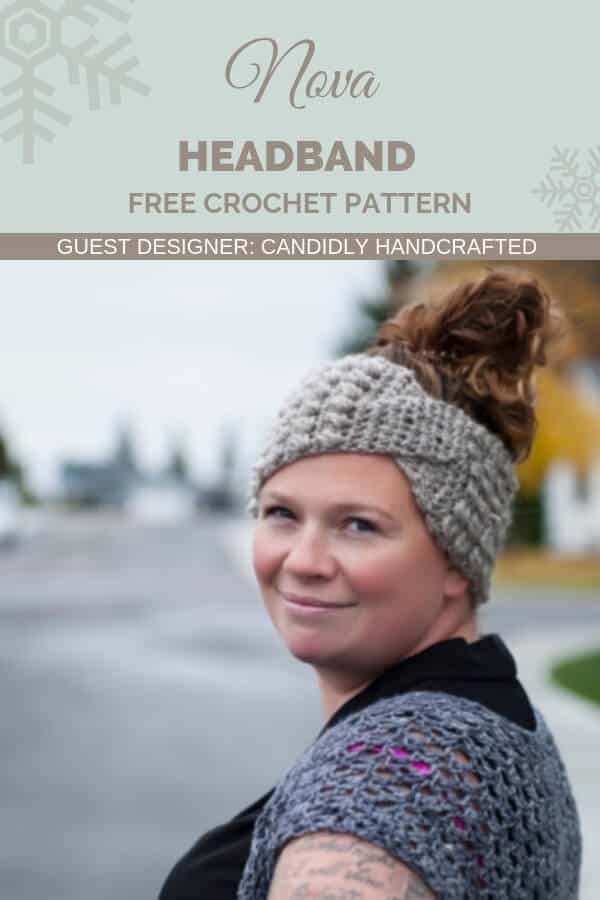 Are you ready to make your own?
Between November 1 and 10, 2021, you can get the downloadable PDF for 50% the retail price with code you'll find via the button, below. Then, come on back here, scroll to the bottom, and find the link to purchase the PDF on Etsy.
Or, you can find the free, non-printable, pattern, below.
Materials
6.50 mm crochet hook
Worsted weight (size 4) yarn, approximately 70 yards

I used Lion Brand Touch of Alpaca

Scissors
Tapestry needle
Measuring Tape
Stitches Used
CH: chain
SC: single crochet
PSt: Puff Stitch
SLST: slip stitch
MC: main color ST(S): stitch(es)
Pattern Details
Skill Level: Intermediate

US Terminology

Gauge: 10 (5 sc and 5 Puff Stitch) stitches X 10 (5 sc rows & 5 Puff Stitch) rows = 4" square

Stitch used for gauge: Single Crochet & Puff Stitches
Swatch instructions: Follow the pattern repeat to get gauge.

Size(s): Adult
Measurement(s): 19" by 5" wide.
No matter your skill level, I always suggest that you read through the pattern from beginning to end before beginning your work just to be sure you don't have any questions that might cause frustration in the midst of your project.
The right side of the project is the side where the puff stitches 'puff' out. The RS will be facing you when you are doing the sc row.
The 'Flaps' are the two rectangular pieces you will make that will be sewed in an 'x' to join the two edges of the headband.
Make sure that you end your headband with a sc row before starting the cross flaps. This will make the edge that you slip stitch together look much smoother.
When doing the slip stitch to close your headband ensure your headband is flipped the wrong side out, it will make the seam less visible on the right side.
Make one flap and before joining it to the opposite side, lay your headband flat to measure its length. Your headband should measure 19" in length and 5" width.(For a standard ladies size. This will comfortably fit a head circumference from 20" to 21.5")
Pattern Stitches Used: ⇒ Puff Stitch: * yarn over, insert hook into stitch, pull up a loop to the height of a dc* repeat two more times, yarn over and pull through all 7 loops on hook. ⇒ Single Crochet ⇒ Half Double Crochet ⇒ Slip Stitch
Nova Boho Bobble Twisted Headband Crochet Pattern
With K (6.5 m) size hook
Ch 14
ROW 1: sc in the second chain from hook and in every ch across. Ch1, Turn. (13 sc)
ROW 2: sc in first stitch, (PSt in next stitch, sc in next stitch) repeat across. Ch 1, turn. (7 sc, 6 Pst)
ROW 3: sc in every stitch across, ch 1 turn (13 sc) Repeat Rows 2 & 3 until your piece measures 16"
Do Not Cut Yarn.
* I had 20 sc rows & 19 PSt rows for a total of 39 rows.
First Flap:
ROW 1: sc in first stitch, sc in next 6 stitches ch 1, turn (7 sc)
ROW 2: hdc in each stitch across, ch 1 turn (7 hdc) Repeat Row 1 & 2 until your 'flap' measures 3 inches.
*I had 6 rows total.
DO NOT CUT YARN
Pull the flap diagonally across to the beginning of your headband to join. The inside corner of the flap should line of with the outside edge of the headband.
SlSt through both pieces in the first sc, and the next 6 stitches.
*Remember to do this with the wrong side up, facing you.
Ch 1 (do not turn)
Second Flap:
ROW 1: sc, in first stitch and in the next five stitches, Ch 1 turn. (6 sc) ROW 2: hdc in each sc across. ch 1, turn (6 hdc) ROW 3: sc, in each stitch across, ch1, turn (6 sc) Repeat
ROWS 2 & 3 until your flap measures 3 inches.
*I had 6 rows.
Pull this flap over top the other flap to create an 'x', lining up the outside corners. SlSt through both pieces in the first sc, and across.
Cut Yarn and fasten off. Weave in all ends.
Flip your headband right side out. You are done!
Purchase the Downloadable PDF Pattern
While the free pattern is shared above, our readers often ask how to get a printable pattern or how they can support the work of independent designers such as Candidly Handcrafted.
That is why we've made this pattern available as premium, ad-free, downloadable PDF. If you'd like to support Bethany's work, you can purchase the pattern, via the button, below.

More Headwear Patterns You'll Love
**Note: If you choose to sell items made from this pattern, please credit my shop Candidly Handcrafted, for the pattern. Please do not share or sell this pattern in any way. This pattern is for personal use only, with the exception of selling finished items made from it. The use of my photos to promote or sell your finished items is strictly prohibited. If you need assistance please don't hesitate to email me, [email protected]