Quick and Easy Fisherman Beanie: Free Crochet Pattern
This hat is simply gorgeous for Fall! Nevermind that the color is perfection, the slouch and shape of this hat is just classic and looks so comfortable. This Easy Fisherman Beanie from Signoni Macaroni is today's free crochet pattern for our 30 Days of Cozy event!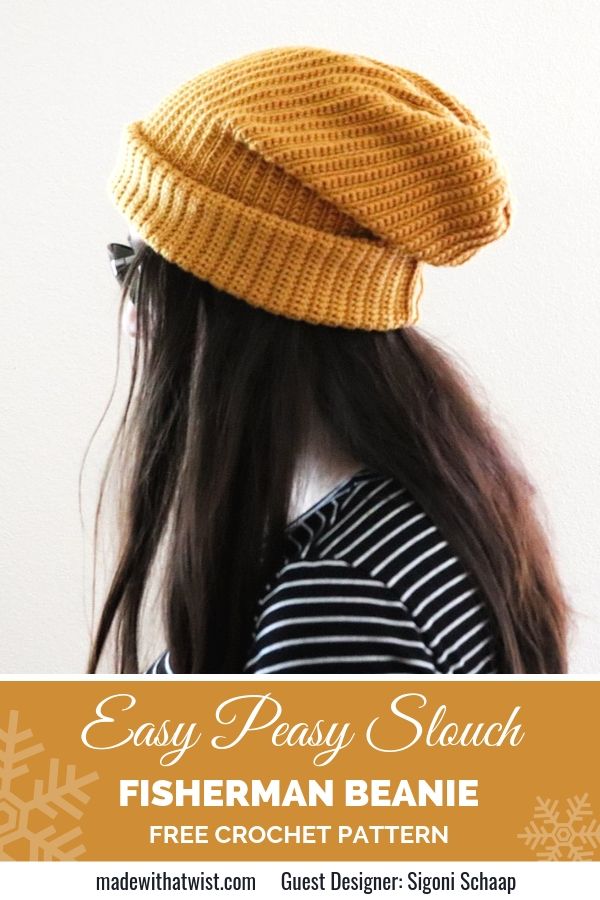 Meet Sigoni Schaap
Sigoni is the face behind Sigoni Macaroni, the place where beginners learn to crochet like pros! Her blog's mission is to be the place for you to learn the basics and beyond, with hands-on help. She promises that help to her Facebook group of over 600 beginner crocheters by providing detailed explanations to their questions and providing them with constant tips and tricks. Her blog focuses on tutorials for absolute beginners and those who want to take the skills they learn to the next level. She also offers free patterns specially designed using basic stitches, lots of photos, and video so that no matter your experience level, you too can make beautiful things!
Blog and Social Media Links
Get Your Printable PDF of This Pattern
The Easy Peasy, Slouchy Fisherman Beanie
The Easy Peasy Slouchy Fisherman Beanie is a beanie that was completely inspired by a movie I saw recently. Have you seen "Always Be My Maybe"? If you haven't, you should. Either way, the main actress wore this mustard-colored slouchy beanie in one of the scenes and I fell in love and had to make one for myself. Not only is it a cute, 'wear-it-any-time-any-where' kind of beanie, but it's super easy to make! Over on my blog, Sigoni Macaroni, I strive to provide my beginners with easy-to-make patterns using basic stitches while also giving it a "Did you really make that?" kind of look. And this pattern does just that.
I love how easy it is to make. There are so many options from the color to resizing and even using different yarn weights. Because the construction of the Easy Peasy Slouchy Fisherman Beanie is so simple, you can create this hat using light, medium, and even bulky weight yarn! I especially love the way it looks when using a lightweight yarn.
Throughout the entire pattern, you will only be using one stitch: the single crochet. The beautifully textured, ribbed effect that you see is from alternating the usage of the front and back loop. This beanie pattern was written and designed for the average woman's head circumference and using medium weight yarn. Within the premium pattern, you will find instructions on how to resize your beanie to fit the average toddler all the way up to an adult male. You will also find quick-reference charts within the pattern. These will tell you how many chains you need to begin with and how many rows you will need to end with for each size and yarn weight.
I hope you have just as much fun making your beanie as I did designing it!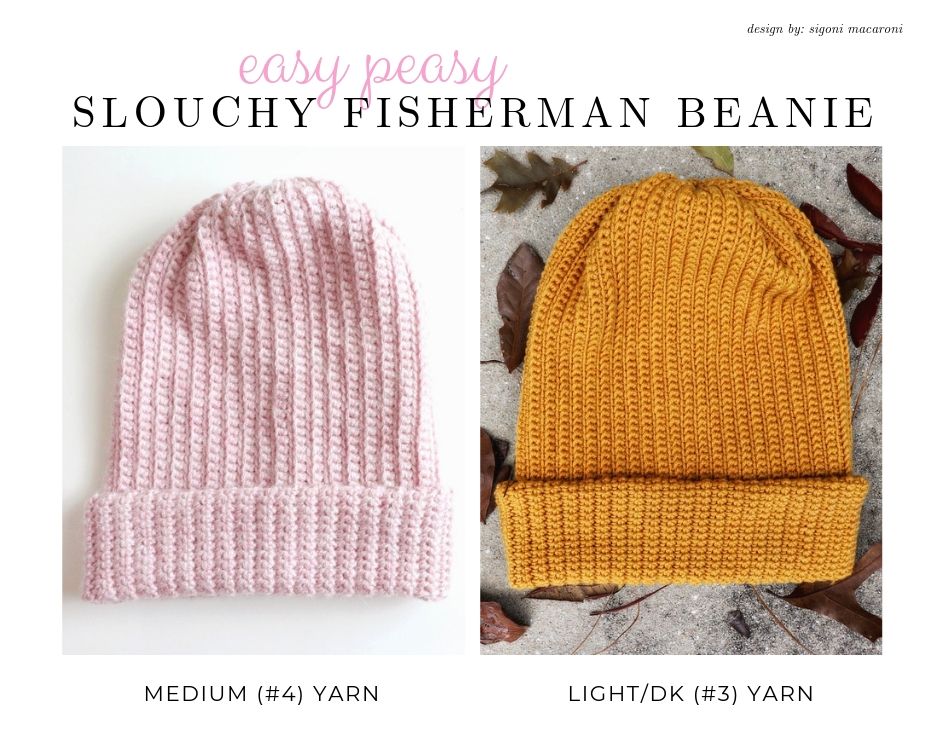 Materials
Skill Level
Easy
Size/Finished Measurements
Measurements are calculated as a rectangle before the beanie is sewn together
Woman Hat Size: 17 x 14.5 inches
(Sizes toddler through men's are available in the premium pattern, links below)
Gauge
17.5 sc and 17.5 rows = 4"/10 cm in pattern
Adjust hook size if necessary to obtain gauge.
Stitch Abbreviations
Ch – chain
Sc – single crochet
BLO – back loop only
FLO – front loop only
Sl st – slip stitch
Rep – repeat
Pattern Notes
US Terminology
Similar medium weight yarns may be substituted; please check gauge.
How to Make this Fisherman's Hat
Row 1: Ch 64, sc in 2nd ch from hook and each ch down row. Ch 1, turn. (63)
Row 2: Sc in FLO of each st across. Ch 1, turn. (63)
Row 3: Sc in BLO of each st across. Ch 1, turn. (63)
Rep rows 2-3 alternatively until you reach row 75 or until your work measures 17 inches.
Do not tie off.
Fold your work in half so that the last row you worked and the foundation row is aligned (with the right side on the inside). Sl st in each st across.
Tie off leaving approximately 20 inches to sew.
Insert tapestry needle about 3 rows down and weave in and out of each row, all-around the top of the hat.
Pull tight to close and sew the hole shut.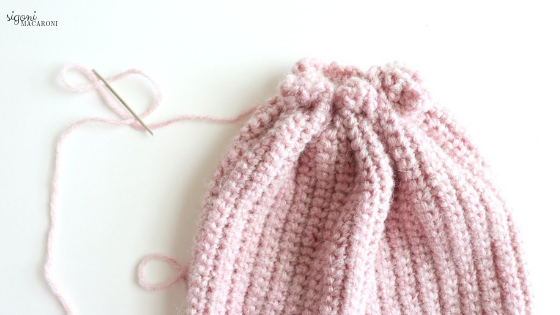 Turn your hat inside out and you're done!
Optional: Fold the brim up about 2 inches and sew it down so that it stays in place.
This pattern and its images are the property of the designer ©2019. The pattern is for your personal use only. Please do not copy/paste, distribute, or alter and claim as your own.